How can we achieve a sustainable high-rise development in the Real Estate Industry?
Click here for English transcription text
Interview of ´Business Life´ translated
Between Simone Cortellaro (S.C.) and Roland Weber (R.W.)
Rhein Main TV, sent between 12 March and 16 March 2018 
HOW DO SUSTAINABLE HIGH-RISES FIT INTO URBANIZATION?
´KREATIVELY THINKING NEW´
S.C.: Welcome to business live tv, the magazine that inspires your success and satisfaction, in your professional and private lives.
Today with me in the studio is Roland Weber from Frankfurt. Welcome Mr Weber.
You are the CEO of Green Towers, which is involved in building high-rises in the form of ´Passive House´.
What does that mean exactly?
R.W.: We are a technology company and, as you rightly said, we have basically created the first fully glazed high-rise that functions as Passive House.
That means we save around 80% of the energy as well as 50% of the total carbon footprint.
In the next three decades, around three billion people will relocate to cities. Cities will continue to grow. The question is, how can we shape such a transformation?
Cities are constantly growing and getting warmer, and our way of tackling this is with a high-rise that has a garden-facade, which is robust, simple and cheap enough that it can be implemented on a grand scale.
We work with climbing plants and these cool the temperature of heat islands within the city.
S.C.: Mr Weber, you have also traveled a lot.
You are a Frankfurt man at heart, and you have been to many other countries around the world. Is that what inspired you in this respect?
R.W.: Yes, I had the chance to spend a number of years in Russia, technically leading and building up Europe´s biggest high-rise contractor.
Interestingly, this was not just a question of doing whatever is physically possible, but also seeing how it feels when you
actually work and live in these kind of high-rises. You should always endorse what you yourself believe in.
There have been many occasions where we have said ´this was good´ and 'these are the cherries we want to pick out'. On the other hand we have also found out deficits especially in green tall building. Consequently we are working to significantly improve them.
S.C.: Now, let us explain again how it works with the plants.
Well are enough plants on such a high-rise?
It is not only a few plants in relation to the unbelievable size of this building?
And how can they actually influence the climate of the premises?
R.W.: Yes, they influence the climate in the building and of the city. Of course we can't, let's say, just plant some primroses in the window or on the balcony.
But rather, like you can also see on the walls of many buildings in Frankfurt, use climbers.
Climbers there are like huge trees. They have enough horse power to cool and to provide shade. As part of urbanization, cooling and shade is very important for growing core cities.
What we are doing on the facades also has to remain affordable and feasible in terms of maintenance.
S.C.: If in doubt, would we not have to think a bit beyond the building itself, and take urban planning into consideration?
Yes, nowadays 50% of the people live in cities and by the year 2050, they say that two out of every three people will live in cities. We have to plan for that, and say that we have to build in a specific way, but at the same time of course, we have to think about the environment into which we are placing the buildings. So how will we build our cities?
R.W.: Town planning, architecture and technical solutions, are deeply intertwined. It is important to make the vision of tall green facades marketable. It is about doing that in a practical sense and actually supplying reliable technical construction solutions which will function.
S.C.: These are interesting starting points. How long does this kind of high-rise remain in the cities? It is still all relatively modern? The construction of high-rises in Frankfurt began just in the 70s.
R.W.: That's right. Being an old native of Frankfurt, I can still remember that. There was a lot of debate and tension around the constructions of the 70s.
Then came the next wave in the 90s, where they did a lot of things much better. I think the architects had learned a great deal.
These tall high-rises are certainly interesting, since they will not just stand for a few decades, but for many centuries. We have four and a half thousand high-rises around the world over 150 meters tall. Only one has been torn down so far.
For us, that means it is very importante for the architecture to be very good and, put simply, something that the people will like.
Yes, it is not just designed to adorn glossy brochures and leaflets, but it is for those who live there and those who are affected.
Also the vertical garden. People should find it immediately attractive and that has been all-important to our team, including our architects.
S.C.: And how do you imagine what it would be like to live in one of your buildings?
R.W.: Well of course we practice what we preach. I myself had the opportunity to live in a high-rise in Russia on two occasions.
If you ask the people, in London for exemple where a lot more experience has been collected, people love the view.
Here we go one step further. We not only see this vertical garden speaking to the city and its inhabitants, but also to the people who live in the building, those who enjoy the view through the glass.
And shading plays back into the Passive House design again.
We want to create an open living space. That is about how the people are living. It is about light and air, about sun and about the view.
Once again, we are also speaking about the same façade facing outwards too.
Another very technical aspect of the high-rise is that it is accessible for people with disabilities. Residents with a wheelchair or rollator can go out and get their daily groceries unimpeded by barriers.
The Green Tower has many practical aspects on the inside. One more is security. The term 'gated community' sometimes comes up a lot, but actually that misses the point. Approximately 400-500 families live in a high-rise, which means it is very affordable to have someone placed on the ground floor. He can be paid by all residentes together. You can talk to him. He always in person keeps an eye on things, and not only the lens of a video camera.
S.C.: If I have understood correctly, you have also planned for relatively large outdoor areas, such as balconies or terraces?
R.W.: Yes, it will be like living in a penthouse, which also has its own garden. Essentially, it has the feel of a penthouse on every floor.
It partially consists of covered areas, and partially of open areas and yes, in the garden, on this balcony, you are also
in the shade and protected from the heat.
This is where the passive house comes in, it is always about the connection between life and technology. Both are closely related.
S.C.: Is sounds like a really special way to live. Another slice of truly luxurious living. Is that right?
What are the economic factors of Green Towers?
R.W.: Yes, first of all, it would be nice if, in an ideal world everybody could live in such a nice environment.
However we cannot offer the lowest price in this quality market bracket.
Trying this would be bit like how it went wrong in the 70s.
There will certainly be a lot of people looking at the building, which means it also has to be pretty. Whilst is cannot be the cheapest in terms of costs, we are certainly in the position to project ourselves on a medium price range.
Thanks to the experience of my team in Russia, we have essentially managed to make these high-rises significantly more economical.
And it is perhaps also good to address this challenge to politics from time to time; to make it feasible somewhere between high-end accommodation and social housing there might also be a mid-range market sector opportunity. Housing that
does not cost 10,000 Euros per m2, but 5,000. This is already expensive enough, and we are aware of it, nevertheless it would definitely be interesting.
The most difficult component is the social component. It would be great if we could also incorporate these social components, so that we are not always simply seeking how to fuel land speculation, how to make land more expensive. This again pushes investors into another hefty financing risk markup. Not because they are evil, but because they need it. That is certainly a more interesting starting point in the discussion about politics. Namely, whether it is possible to establish such an outstanding product at a médium to medium-high price range.
S.C.: That means the product had really been thought out in a versatile manner and, in terms of architecture, with a view to the CO2 emissions, with a view to living, in terms of pricing and also how it is possible to shape the life inside.
R.W.: And that is why it is interesting to simply make living in a high-rise attractive. In fact, on the one hand it is the green side mainly of the hull of the building. On the other hand we also need a carrot for the investors. We make both ends meet.
"Finance makes it happen". This side also wants to work, and that is certainly possible with Green Towers.
Good high-rises tend to be more expensive; that is the "nature of the beast". Yet they also can provide a higher quality of life. Therefore it is possible to have a good quality of life in a somewhat smaller apartment.
I discovered that myself in Russia. There, I had a number of different apartments to choose from. Some of them were big and dark, or alternatively in a high-rise with a great glass facade and a view of the park and the river. That was much more fun for me.
S.C.: I can see that your heart is really in this project and I'm keeping my fingers crossed for you. I really hope we will see Green Towers all over the world very soon, and perhaps we can start in Frankfurt.
Thank you, viewers at home, we have come to the end. I wish you all the best and look forward to seeing you again next time, on business live tv.
Green Tower's CEO Roland Weber gave interview for Rhein Main TV, explaining how a sustainable development in Real Estate tall buildings could be achieved.
In the next 30 year 3 billion people are expected to relocate to big cities and that will cause another raise in cities temperature. Whilst cities will increasingly go high, skyscrapers with their nice glass facades consume plenty of heating and cooling energy. Green Towers have created the first tall Passivhaus skyscraper which master the challenges of glass facade. This saves 80% of energy and 50% of its lifetime carbon footprint.
A simple but clever solution is adding a green façade to the design of the building by using climbing plants. They require a low maintenance, provide shade in the hottest days and have the power to effectively cool the temperature of city heat islands.
Green Towers stands for bringing a high living quality to people, by been environmental sustainable and providing homes. Mid-range prices can be achieved if land-plot speculation would be avoided.
Green towers will be at MIPIM from 13th-16th March. The international property event hosted in Cannes, France each March includes an exhibition area, conferences and events for a period of 4 days gathering together real estate professionals and promoting exchange in business projects between members. This year more than 24.000 participants from 100 countries are expected to take part at the event.

Looking forward to meeting everyone from the global real estate industry.
22nd International Passive House Conference
We will be at the 22nd International Passive House Conference on 9th and 10th of March in Munich. Every year, the Passive House Institute organizes the International Passive House Conference, bringing together experts in energy efficient building and other interested parties for 2 days of talks, presentations and networking opportunities.
Green Towers at the World Economic Forum, Davos 2018
Roland Weber in front of the camera of Rhein-Main Aktuell, sharing experience and gratitude of the Green-Towers team to be part of the World Economic Forum.
Watch below video fragment of Rhein-Main Aktuell from 30.01.2018.
Green towers GmbH was at the World Economic Forum in Davos from the 23rd to 26th of January 2018, where our CEO Roland Weber met with the respected Frankfurt Mayor Peter Feldmann and discussed how to make tall structures green and sustainable for Frankfurt. Sustainability is here to stay and is the future.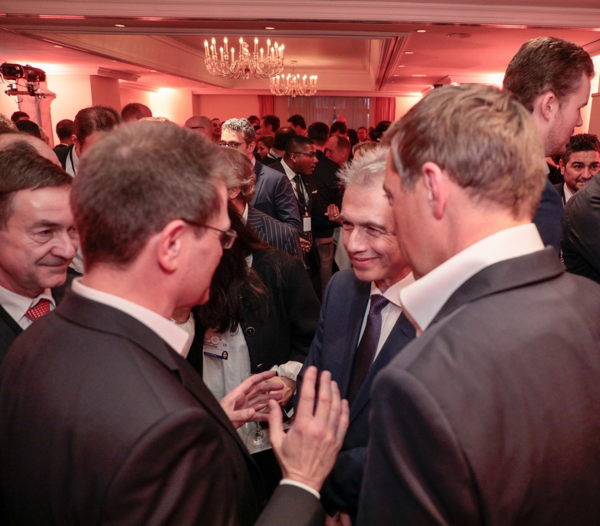 Best way to predict a sustainable future is to create it.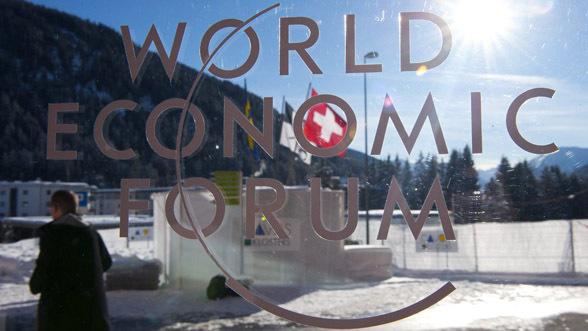 Green-Towers participated at the WEF at Davos in the ´Frankfurt Euro Finance Experience Office´. We showcased our model of an iconic and sustainable high-rise.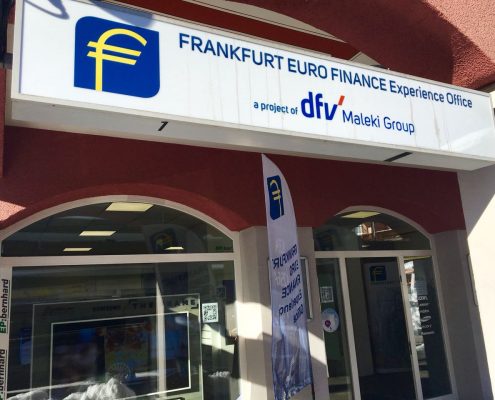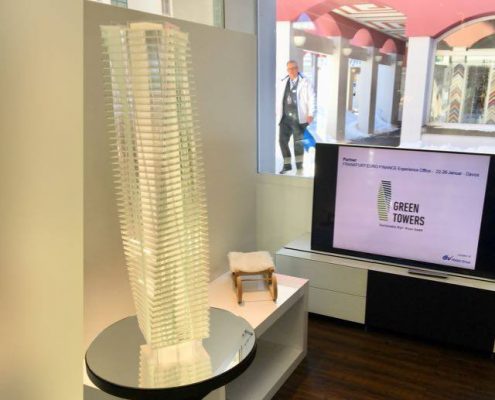 Green-Towers at Real Estate Congress of Oxford
Green-Towers regularly visits the Real Estate Congress of Oxford Said Business School and venues of the Oxford Real Estate Society.

GREEN-TOWERS at the MIPIM 2017.
GREEN-TOWERS exhibiting at the MIPIM 2017 innovation forum.
Project architect Todd Halamka (Chicago) and CEO Roland Weber.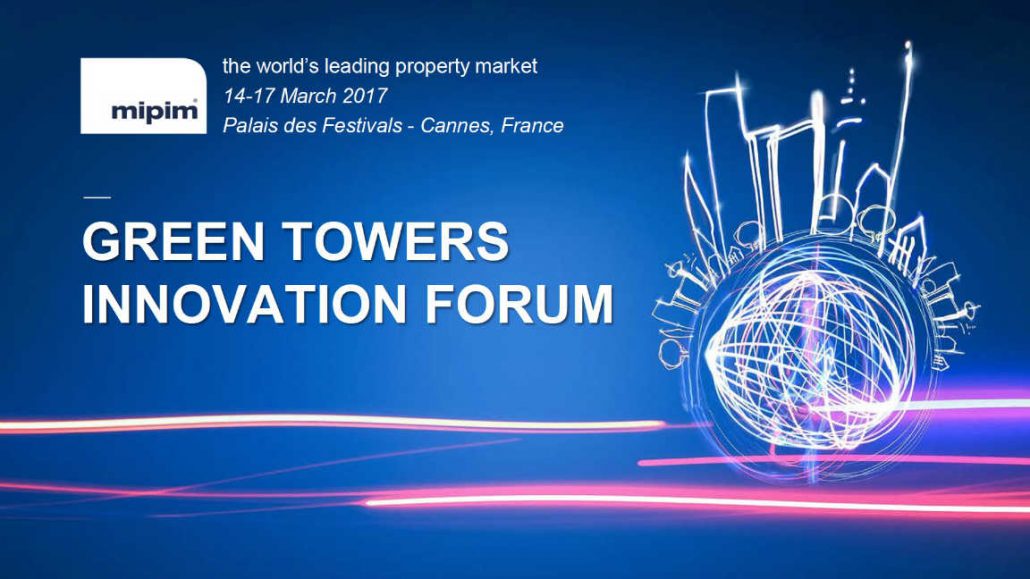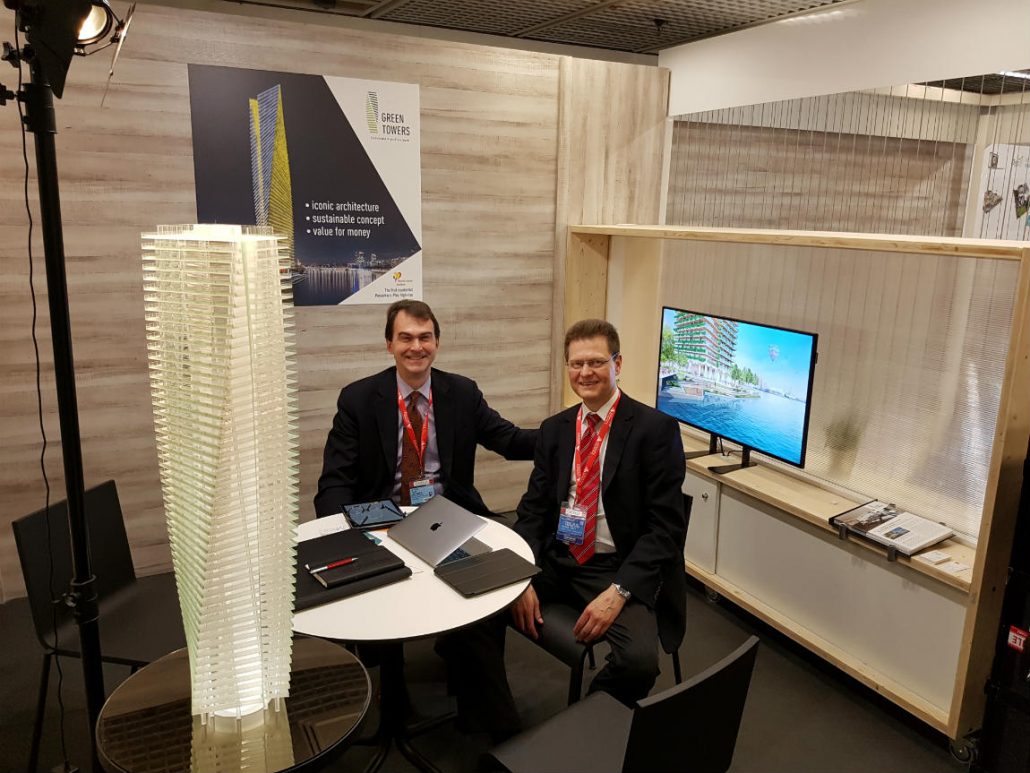 Disclaimer
Haftungshinweis:
Trotz sorgfältiger inhaltlicher Kontrolle übernehmen wir keine Haftung für die Inhalte externer Links. Für den Inhalt der verlinkten Seiten sind ausschließlich deren Betreiber verantwortlich.
Sämtliche Texte, Bilder und andere auf der Internetseite veröffentlichten Werke unterliegen – sofern nicht anders gekennzeichnet – dem Copyright der Green – Towers Sustainable High-Rises GmbH, Frankfurt. Jede Vervielfältigung, Verbreitung, Speicherung, Übermittlung, Sendung und Wieder- bzw. Weitergabe der Inhalte ist ohne schriftliche Genehmigung der Green – Towers Sustainable High-Rises GmbH ausdrücklich untersagt.
Warenzeichen-Informationen
Bitte beachten Sie, dass Bezeichnungen und Namen von Herstellern, Firmen, Produkten etc. im allgemeinen Warenzeichen, eingetragene Warenzeichen oder Handelsmarken sind und daher warenzeichen-, markenzeichen- oder patentrechtlichem Schutz unterliegen. Sie sind Eigentum der jeweiligen Inhaber und werden daher nur zur Benennung und ohne Rücksicht und Gewährleistung einer freien Verwendbarkeit aufgeführt.
Copyright
Alle Rechte vorbehalten, auch die der fotomechanischen Wiedergabe und der Speicherung in elektronischen Medien. Sie dürfen das auf diesen WWW-Seiten vorliegende Material für Ihren persönlichen Gebrauch benutzen und an Dritte ausschließlich zu deren persönlichen Gebrauch und unverändert weitergeben. Auf keinen Fall darf dieses Material oder auch Teile davon in anderer Weise als oben aufgeführt genutzt werden. Anderweitige Weitergabe des Materials sowie die Vervielfältigung und Übersetzung in andere Sprachen sind, auch auszugsweise, nur mit schriftlicher Genehmigung des jeweiligen Eigentümers bzw. Urhebers im Sinn des Copyrights gestattet. Sollte sich auf unseren Seiten ein Element mit bereits vorhandenem Copyright befinden, bitten wir um kurze Nachricht um das Element sofort zu entfernen.
Haftungsausschluss
Bei der Zusammenstellung des Materials dieser Web-Site wurde mit größter Sorgfalt vorgegangen. Trotzdem können Fehler nicht ausgeschlossen werden. Die Bereitstellung auf diesen WWW-Seiten erfolgt daher ohne Anspruch und Garantie auf Richtigkeit oder Vollständigkeit. Urheber und Betreiber dieser WWW-Seiten können für fehlerhafte Angaben, deren Folgen sowie Schäden jedweder Art, die auf die Benutzung des beschriebenen Materials zurückzuführen sind, weder eine juristische Verantwortung noch irgendeine Haftung übernehmen.
Die Autoren übernehmen keinerlei Gewähr für die Aktualität, Korrektheit, Vollständigkeit oder Qualität der bereitgestellten Informationen. Haftungsansprüche gegen die Autoren, die sich auf Schäden materieller oder ideeller Art beziehen, welche durch die Nutzung oder Nichtnutzung der dargebotenen Informationen bzw. durch die Nutzung fehlerhafter und unvollständiger Informationen verursacht wurden, sind grundsätzlich ausgeschlossen, sofern seitens der Autoren kein nachweislich vorsätzliches oder grob fahrlässiges Verschulden vorliegt. Alle Angebote sind freibleibend und unverbindlich. Die Autoren behalten es sich ausdrücklich vor, Teile der Seiten oder das gesamte Angebot ohne gesonderte Ankündigung zu verändern, zu ergänzen, zu löschen oder die Veröffentlichung zeitweise oder endgültig einzustellen.
Sofern auf Verweisziele ('Links') direkt oder indirekt verwiesen wird, die außerhalb des Verantwortungsbereiches der Autoren liegen, haften diese nur dann, wenn sie von den Inhalten Kenntnis hatten und es ihnen technisch möglich und zumutbar wäre, die Nutzung im Falle rechtswidriger Inhalte zu verhindern. Für darüber hinausgehende Inhalte und insbesondere für Schäden, die aus der Nutzung oder Nichtnutzung solcherart dargebotener Informationen entstehen, haftet allein der Anbieter dieser Seiten, nicht derjenige, der über Links auf die jeweilige Veröffentlichung lediglich verweist. Diese Einschränkung gilt gleichermaßen auch für Fremdeinträge in von den Autoren eingerichteten Gästebüchern, Diskussionsforen und Mailinglisten.
Die Autoren sind bestrebt, in allen Publikationen die Urheberrechte der verwendeten Grafiken, Sounds und Texte zu beachten, von ihnen selbst erstellte Grafiken, Sounds und Texte zu nutzen oder auf lizenzfreie Grafiken, Sounds und Texte zurückzugreifen. Sollte sich auf den jeweiligen Seiten dennoch eine ungekennzeichnete, aber durch fremdes Copyright geschützte Grafik, ein Sound oder Text befinden, so konnte das Copyright von den Autoren nicht festgestellt werden. Im Falle einer solchen unbeabsichtigten Copyrightverletzung werden die Autoren das entsprechende Objekt nach Benachrichtigung aus seiner Publikation entfernen bzw. mit dem entsprechenden Copyright kenntlich machen. Das Copyright für veröffentlichte, von den Autoren selbst erstellte Objekte bleibt allein bei den Autoren der Seiten. Eine Vervielfältigung oder Verwendung solcher Grafiken, Sounds oder Texte in anderen elektronischen oder gedruckten Publikationen ist ohne ausdrückliche Zustimmung der Autoren nicht gestattet.
Sofern Teile oder einzelne Formulierungen dieses Textes der geltenden Rechtslage nicht, nicht mehr oder nicht vollständig entsprechen sollten, bleiben die übrigen Teile des Dokumentes in ihrem Inhalt und ihrer Gültigkeit davon unberührt.
All die oben genannten Richtlinien gelten ebenso für jegliche andere Internet-Präsenzen der Green-Towers GmbH.
Memberships
Oxford Real Estate Society
CTBUH, Council of Tall Building and Urban Habitat in Chicago (Certificate - click here)
IG - Passivhaus