Setting The new market standard.
In close collaboration with the Passivhaus Institute in Darmstadt Green-Towers has designed the first fully glazed residential high-rise as a Passivhaus. High-rise living is all about the fun of enjoying great views. Therefore, it was important to master the challenges of a glass façade in hot and in cold seasons by enhacing a fun lifestyle. For the records, we are also the first ones in tall residential who meet the stringent 'Passivhaus Plus' criteria. Green-Towers also offers solutions for office building with fully glazed facades.
Green-towers explained in 90 seconds
Passive house explained in 90 seconds
Green-Tower Façades Reduce City Heat Islands
Cities are getting hotter every decade. Despite global warming they simply grow in size and develop heat islands. For example, Frankfurt heats up ½ a degree every decade. In summer this is quite a lot. It triggers to install and use air condition.
Quarters with green facades could cool down 4 C according to the Council of Tall Building and Urban Habitat (CTBUH).
Green-Towers innovates green facades by reducing maintenance. Only economical solutions with large cooling power, we believe, can make a change.
On the balconies, green facades can cool up to 4 ºC (CTBUH). In the environment approximately 1-2 ºC.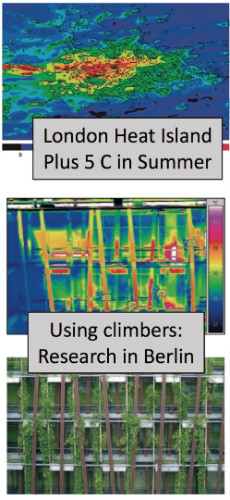 Indoor / Outdoor Garden Lifestyle
Our garden façade not only serves a purpose, it also creates a new lifestyle for our tenants.
Vertical Village Lifestyle
All you need in-house, barrier free and on dry foot.
Keep Noise Out. Nothing keeps outside noise out more efficiently than closed windows. Passivhaus constantly provides clean, filtered air. No need to open windows unless you like it. Studies show that noise is the biggest pain point for tenants.
Keep Warmth Inside. In winter aproximately 1 m near a glass façade it is too cold to sit or work there. You can hardly sit and read a book without feeling the cold glass. Passive house windows are highly insulated. On the inside they feel much warmer.